A while ago, I publicly announced that I was going to get my ass into gear and get fit enough to go snowboarding next winter. I'm happy to say that after ten weeks (ish), I'm now stronger, fitter, much better at recovering after tough hill climbs on my bike and… exactly that same weight as before. Perhaps celebrating a bike ride with a steak each time isn't the right approach.
This wasn't the original plan — I was going to get a FitBit and use the Personal Trainer feature to slowly build up the amount of walking and exercise I do to improve fitness. I did get a FitBit and while I really enjoy having it, my use for it now is simply to motivate me to walk where before I might take the lift or an escalator.
What's happened is that a side-note in my original blog post ("…as well as trying my hardest to cycle more.") has become a rekindled love of mine — I'm cycling multiple times a week and am having a ton of fun doing it, almost to the point where I forgot about the original plan to go snowboarding!
Tips: Cycling For Fun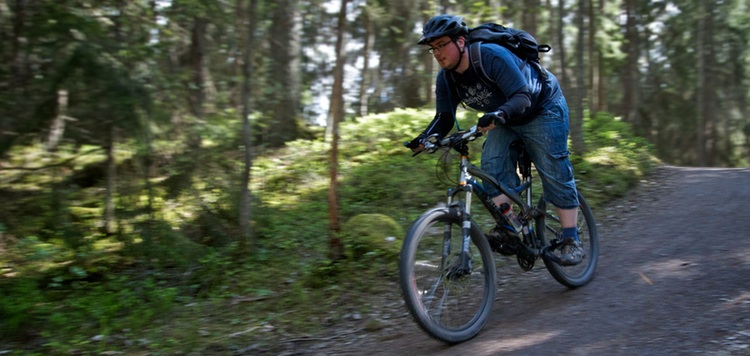 Bike
Try to match your bike to your terrain as much as you can. Or, rather — match where you ride to the bike you have. Mountain bikes do have more versatility in that you can ride one on the road much better than you can ride a road bike on forest trails, though. A few tips if you're looking to buy a bike:
Spend as much money as you can.

Don't get a full-suspension bike that costs less than £1,000/$1,500. There's no hard-and-fast rule, but every full-suspension bike I've seen for less than £1,000 has suffered for simply not having the budget available for decent components (the rear shock absorber on my bike retails for about £300 and is considered "middle of the range"). The result is "pedal bob" — a lot the work you put into pedalling ends up bouncing you up and down on the suspension instead of propelling you forwards.

Often, top-end components in one category are better than bottom-end components in the next category up. Cable disc brakes vs. hydraulic disc brakes, mechanically sprung forks vs. air sprung forks, etc.

Make sure your bike is properly set up for your size and weight, including tyre pressures, suspension setup, etc.

Find a good local bike shop to help you, and you'll be rewarded in spades. See my recent story about my fiancée's birthday for a good example.

Most importantly: DO NOT BABY YOUR BIKE. Good bikes are rewarding when they take a pounding, get stupidly muddy and wet, etc. Plus, "So, I made it all the way to the bottom of the trail only to have my brakes not work right away because they were so covered in mud — I was squeezing so hard on the brakes that when the pads cleaned the discs they locked and I went right over the handlebars!" is a much more awesome story than "I went slowly, but at least my bike was clean!"

My friend Tim on a cycling trip to Germany. No pictures of me here since I had the camera, unfortunately.
Clothing
Cycling can be a literal pain in the ass — I wear a pair of padded lycra cycling shorts every single time I go out on my bike, and a skintight base layer on top to control heat and sweat. Since I'm well aware nobody wants to see a guy of my figure in stuff like that, I wear a pair of baggy shorts and a t-shirt over the top.
In addition, make sure you have a decent pair of gloves and a comfy helmet.
Equipment
I cycle with a decent backpack that has an "air circulating" back — there's a plastic board in the pack that keeps it away from your back, resulting in a much less sweaty time. Inside that backpack I have:
A CamelBak holding 1.5-2 litres of water for continual refreshment.
A bike multi-tool.
A spare inner tube.
A puncture repair kit.
A bike lock.
A pump.
On longer journeys, or trips away from home, I also add:
A spare chain.
More inner tubes.
Also, my bike has a decent light (Light & Motion Seca 700) and a water bottle permanently attached, as well as my GPS, bell, etc.
Base Route
I have a 10km loop that I can do without feeling too tired. Over the past few weeks I've gotten faster and less tired around it, and it's great to see my gradual improvement over time.
Data
These posts are going in a category called "A Nerd Outdoors" for a reason! I now have a Garmin Montana strapped to my bike's handlebars, which is linked to a cadence sensor for keeping track of how fast I'm pedalling.
The Montana is perhaps overkill for this use, and you can get cheaper devices — even ones specifically designed for bike use — if you're not interested in all of the features the Montana has.
Once I have this data, I upload it to Strava, an excellent online service for keeping track of cycling which lets me compare how I'm doing with my friends and see my progress and statistics. For example, since April I:
Have cycled 202km.
Am averaging 37km/week.
Am averaging 2 hours, 30 minutes on the bike a week.
This is an example or a recent ride of mine:
I'm iKenndac on Strava if you sign up!
Maps
I've already written at length about the advantages of having decent maps for hiking/cycling, but one more use has cropped up: Quite often I'll be cycling along and see a path disappearing off into a forest and I'll think "That looks fun, I wonder where that goes?". Now I make a mental note of where it starts, and once I get home I can look on the map and see if I can fit it into my next ride.
This has already come up trumps — one of my favourite sections of trail in the area was found with this method. The entrance to it is a tiny, root-covered path with a "No horses" sign on it, but it opens out to a fantastically fun, fast, and sweeping section of trail that you can see me on a bit further up the page.
Move To Sweden
Well, this last one might be a bit far-fetched, but man is it awesome for cycling here. I live 13km from the centre of the capital city, and I have a nature reserve full of lakes and awesome cycling trails right on my doorstep. A typical rest stop looks like this:
I guess I should get back out there!