For ages I've been saying that I intend to start riding my bike to work and back, but in true fat guy style I keep finding excuses ("Oh, its winter now, I'll do it when it warms up again", "My bike is broken", etc) not to. Well, today I remembered how much I used to enjoy riding my bike around the countryside back when I wasn't such a fat guy.
So, after doing a couple of shorter rides to prep myself a bit, today I armed myself with my personal GPS thingy and did the 12 mile round-trip to work and back. And, you know what? It wasn't that bad. Hell, I enjoyed it! Despite the fat I am woefully unfit, I managed to ride there and back without stopping, and when I arrived back home I didn't collapse on the floor in agony, either.
So, some stats. This is a map of where I went. Blue line is the route I took from home to work, red line the route I took along Alban Way back home.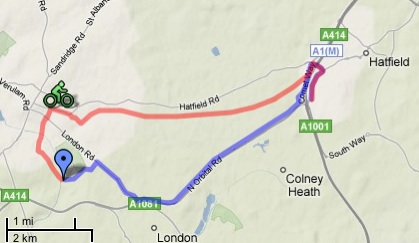 On the way there, I did the 6 miles in roughly 30 minutes (avg. 12 mph). However, on the way back I started to run out of energy and my total average dropped to 9.1mph.
The map above shows a picture of a bike - that's where the bike shop is. This is the first time I've done more than a couple of miles on my bike in a long time, and it felt a bit too small - I wanted to be sitting slightly higher (my seat is as high as it'll go) and my handlebars seemed too low down. I stopped off at the shop on the way back, and after drooling over a £1500 Marin, I asked for some advice about my bike.
I was told by a lovely Australian girl that while she'd recommend a slightly bigger frame if I was buying new, there are a few things I can adjust on my bike to perhaps make it better - the seat could go back a bit, the handlebars could tip forwards a bit, and "using knobbly offroad tyres on the road… will certainly help you get fit quicker!".
So, I'll give it a go, and see. That Marin was nice, though…